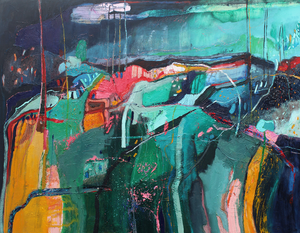 "Out beyond ideas of wrongdoing and rightdoing,
There is a field. I'll meet you there." - Rumi
A vibrant, textured, abstract land inspired by the landscape, memories, imagination, intuition and dreams. This painting looks at our internal landscape, our connection to nature, the choices we face, freedom and self expression. Many of us are tied into ideas of right and wrong and are fearful of showing our true selves.
*Oil on canvas
*Painting size:H70xW90cm/Frame size:H75xW95cm
 This painting is available at The Kenny Gallery, Galway https://bit.ly/3DFVhvT